【TAKE AWAY】NO TABLE? We also have great offers for home enjoyment!
2022-09-08
You can now enjoy our professionally prepared culinary specialities from the comfort of your own home. Our carefully selected MASA HOME menus are on par with the award-winning flavours you've come to know from our restaurants. Together, Masa Oae and his head sommelier have put together sophisticated flavour compositions that will immerse you in the world of Japanese delicacies.
雅MIYABI (für 2 Personen empfohlen)
MIYABI is recommended to customers who want to spend a wonderful time with their loved ones. In addition to starters, sashimi and fine fish dishes, we also offer Wagyu truffle rolls made from Japanese Wagyu beef exclusively for MASA HOME customers.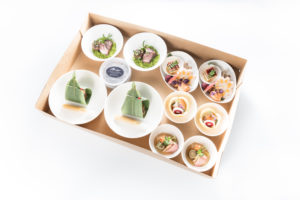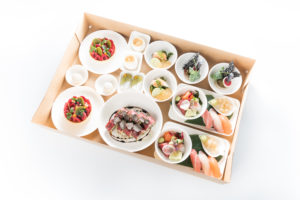 小町KOMACHI (für 1 Person empfohlen)
KOMACHI is a compact version of MIYABI's delicacies and is perfect for one person. In addition to starters, sashimi, fish and meat dishes, this menu also includes a tasty dessert.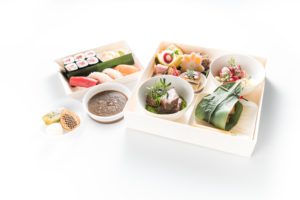 肴SAKANA
SAKANA is a variation selection of starters that allows you to enjoy the essence of our restaurant in your own home through exquisite culinary trifles. This menu is recommended for those who want to enjoy fine Japanese food in moderate quantities.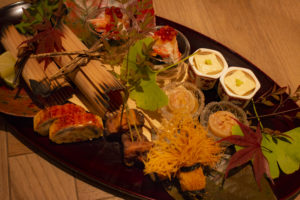 寿司SUSHI
Our exquisite sushi is made with the finest AKAZU vinegar for the rice and carefully selected fish for an incomparable taste. Each piece of sushi is matched by Masaru Oae with original soy sauce to achieve the perfect balance of flavours. Our homemade gari is available to complement the sushi. For two or more people, we recommend the MASA DELUXE menu.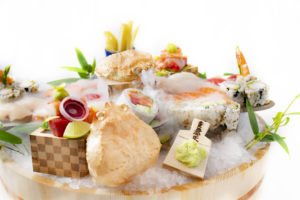 Why not try sake with your order?
Our Japanese sommelier has matched the best sake accompaniment to each dish.
We look forward to your order.
Chef MASARU OAE