MASA BOX ~A special treat from our Chef Masaru Oae~
2021-06-18
【MASA BOX ~A special treat from our Chef Masaru Oae~】
Thank you for visiting our restaurant. 
As announced, we will start selling the "MASA Box" from 22nd June.
We have put together the delicate omakase menu -which you can order in the restaurant- as a compact box for you. 
This way you can enjoy our high quality cuisine at any place of your choice. 
You can find the current menu here 
→ https://masa-frankfurt.de/en/cuisine
Reservations can be made until 3pm on the day of your visit. Pick-up time is between 18:00 and 19:00. Please feel free to contact us if you would like a pick-up at a different time.
Please note that the restaurant is closed on Sundays and Mondays. 
TEL.: +49(0)69 60666247
MAIL: info@masa-frankfurt.de
If you wish to enjoy your meal in the restaurant, we would be pleased to receive your reservation. We will be happy to offer you our excellent wine and sake pairings.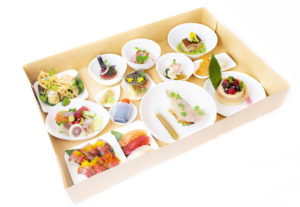 Have a nice day 
Your Masa Team