1st place "Journal Frankfurt"
2021-08-10
We are very pleased to have won the second place in the category "DIE AKUTUELLEN NEUERÖFFNUNGEN" and in the category "JAPAN" in Frankfurt.
Many thanks to the Journal Frankfurt for the great article!
We would like to thank you all for visiting our restaurant. We will continue to improve our restaurant and hope to be number one in Frankfurt next time.
If you haven't visited us yet, please come and try our food.
You can find our current menu here:
We would be very happy to welcome you in our restaurant soon.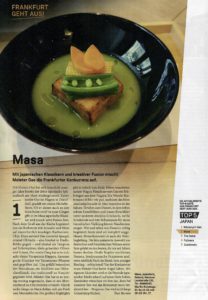 Best regards
Your Masa Team