First article in Top Magazine edition "20 Jahre Jubiläum"
2021-09-23
Thank you for the wonderful article by Top Magazin.
We recommend the OMAKASE menu in the restaurant and the Masa Box for enjoyment at home.
You can find our menu here.
▶︎ https://masa-frankfurt.de/de/cuisine
In our restaurant, you can have a sake and wine pairing created by our sommelier, which perfectly complements the creative cuisine of Chef Masaru Oae. 
We look forward to welcoming you to our restaurant.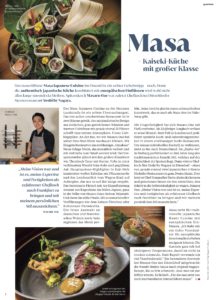 Your Masa Team
Reservation: https://masa-frankfurt.de/en/reserve
Telefon: +49(0)69 60666247
E-Mail: info@masa-frankfurt.de